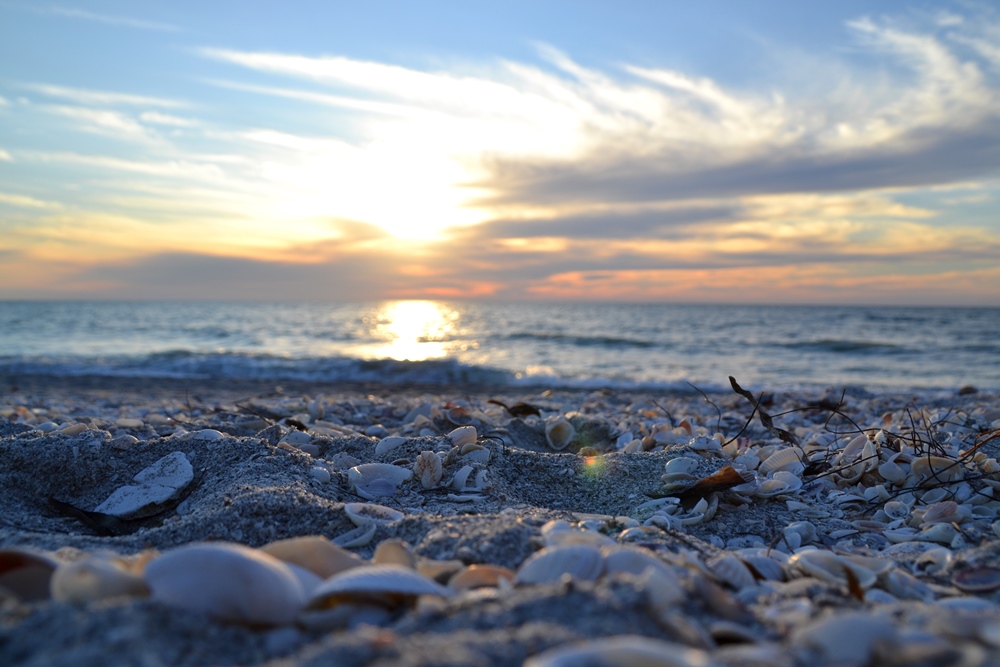 After an afternoon in Fort Myers, it was time to check out some more beaches on my beach road trip through Florida at Sanibel Island. We drove over a toll bridge (6$* toll for cars) onto Sanibel and then north of Sanibel Island to sister island Captiva Island. 

What to see?
Captiva Island is like stepping back in time, not in a bad way, but in a "getting away from it all" step. There`s a relaxed atmosphere. You could see that lots of Americans come here to vacation. It`s the perfect spot for a weekend getaway, watch the sun set, go out for a lovely meal, … Not to forget, admiring all those beautiful big beach houses or should I say mansions.
Shelling is also a big thing at Sanibel and Captiva, as the islands have a unique location. They lie east and west, different from most other islands which lie north and south, making these islands catch sea shells from the Gulf of Mexico. Sanibel Island is famous for its shells, they even have an Annual Sanibel Fair and Show.
Where to eat?
A local told us about the Bubble Room, which is a quirky place to say the least. They`re famous for their cakes, but you can also have lunch or dinner there. For breakfast she suggested Island Cow, which is fun and colorful (unfortunately I didn`t make it there due to limited time).
Where to stay?
We stayed at the Captiva Island Inn, which is located only a few meters from the beach, close to restaurants and a shop. Prices start at £124* (189 US$) per night for the Honeymoon Suite and £66* (100 US$) per night for the Love Shack. We stayed at the honeymoon suite, which was huge and had everything for your comfort.
Some Fun Facts
A lot of snowbirds (someone from the U.S. Northeast, U.S. Midwest, Pacific Northwest, or Canadians) have a second home here
Captiva Island has been ranked one of the country's "most romantic beaches" by Stephen Leatherman, Ph.D., recognized as the nation's foremost beach authority.
The Beaches of Fort Myers & Sanibel are widely recognized and consistently ranked as one of the nation's top destinations for beach combing, shelling, kayaking and bird watching.
Don`t forget though, as it is a popular place it can be busy on the road into Sanibel, as there is only one main road. Even though once at our location it didn`t feel crowded, but just see it as a warning.
If you want to read up on Florida, then check out my other stops on this beach trip: Pensacola, Panama City Beach, Apalachicola, Cedar Key, St Augustine, St Petersburg & Clearwater, Anna Maria Island and Sarasota.
*Prices were accurate at time of publishing.
This trip was made possible with the support of Visit Florida. Special thanks to The Beaches of Fort Myers and Sanibel.