Following stop on my beach road trip through Florida, St Augustine. This coastal city is the oldest, continuously occupied European settlement in the continental United States. It is celebrating its 500th Anniversary at the beginning of April 2013, as 500 years ago Ponce de Leon claimed Florida for Spain in 1513. You can find lots of historic sites, churches and monuments here to keep you busy for a few days. Not to mention the beaches to enjoy the sunshine and relax. St Augustine was among my favorites along the coast as it had a great vibe to it. 

What to see?
My first stop was at the neighboring St Augustine Beach. It`s a widely stretched beach perfect for beach walks. At the time I was there (January), it was too cold for sunbathing, but it also meant you had the beach to yourself.
Next up was a climb up the 219 steps to have a beautiful view on top of the St Augustine Lighthouse. Even though there were over 200 steps, it felt like I was doing better this time than at the Pensacola Lighthouse. I think it was because it had little platforms in between to let you catch your breath. There`s lots to be seen here: the Keepers House that is turned into a museum, the lighthouse itself, the garden,… Practical: 9.75 US $/adult* (More info on pricing)
After all this, St Augustine has some lovely historic buildings for you to explore. The highlight for me being, the Flagler College, a private liberal arts college situated in a beautiful building. I took the tour which is given by senior students. The college used to be an exclusive hotel called the Ponce de León Hotel, built by millionaire developer Henry M. Flagler, who was also friends with Thomas Edison. It`s well worth the visit and make sure you have a tour to hear all about the history of Flagler and the building. Practical info on the tours here.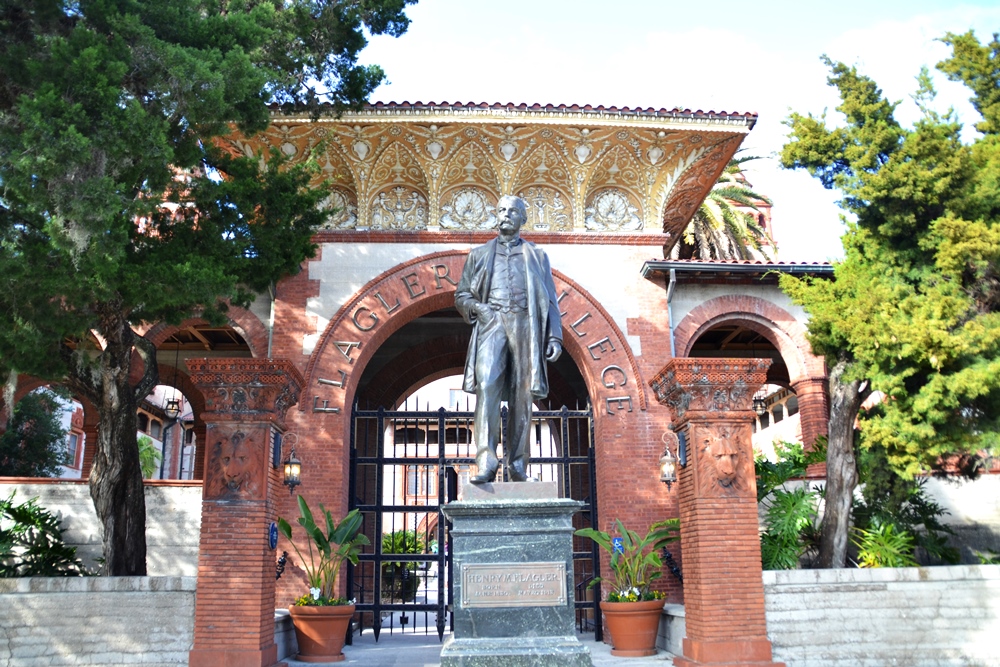 As there is so much to see, taking the Old Town Trolley was an easy way to get everywhere (even though you can walk around too). It`s like a hop-on-hop-off system, where you can get off and visit the attractions and hop on again at one of the 22 stops. A plus is that they offer free parking at the Old Jail Main Depot and Old Town Trolley Welcome Centers when doing a tour. A ticket is valid for 3 days, find more info on prices.
Practical: If you`re looking for a parking spot in St Augustine, there`s a Visitor Center Parking with a 10 US$* flat fee , per entry, open from 7 am to 9 pm.
What else is there to do?
There is so much more to be seen at St Augustine: the Oldest House, Vila Zorayaa Museum, Lightner Museum, Potter`s Wax Museum (America`s First Wax Museum), Castillo de San Marcos, a Pirate Museum (which came recommended by someone else going there with kids) and much more.
Where to stay?
I stayed at the Garden Inn Hilton in St Augustine Beach, which is about 10 minutes` drive from downtown St Augustine . It`s across from the beach (you have to cross the street first though).
Some Fun Facts
Annual average daily temperature is 70 degrees

The city is the oldest port in the continental United States
 Treasury Street in St Augustine is the narrowest street in the United States
If you want to read up on Florida, then check out my other stops on this trip at Pensacola, Panama City Beach, Apalachicola and Cedar Key.
*Prices were accurate at time of publishing.
This trip was made possible with the support of Visit Florida. Special thanks to Florida Historic Coast which offered me complimentary entrance to the attractions.