The theme for #beachthursday today and the #beachchat later on Twitter (Don`t forget to join from 2.30 – 3.30 pm EDT!) is SUNRISES & SUNSETS.
I thought I`d share my favorite moments with the sun. I`ve seen quite a few sunrises & sunsets on my travels and most of them were memorable, like the one at Uluru or that one on a mountaintop, but I always feel that the sunrises & sunsets at the beach just have that little bit of extra special to it.
Sunrises
What I like about sunrises is that it`s usually quiet and you`re almost all by yourself at the beach. Like here at Elbow Beach in Bermuda.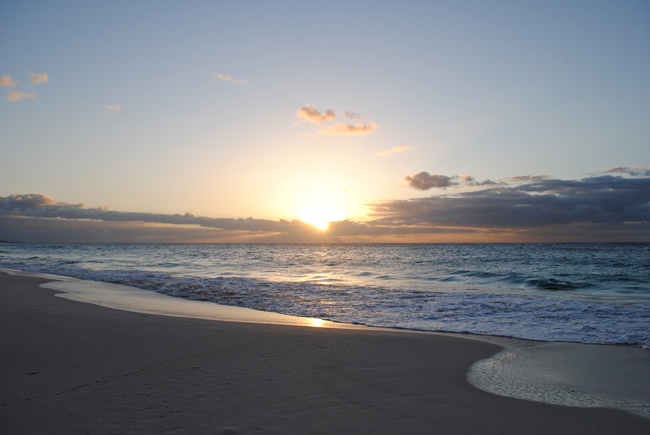 It`s not always easy to get out of bed early in the morning, but sometimes you get treated to something you didn`t expect. I remember when I was on a beach vacation with my mom and we didn`t see one sunrise yet, so we decided on the last day we had to get up and experience one. Standing on the beach at six in the morning you don`t expect others out there, but we saw people sitting on the lifeguard stand, a father with a little boy (an early riser!) still in his PJ`s and some others just on the beach waiting for the sun to color the sky. All of a sudden a few dolphins decided to join us by jumping out of the water and giving us a special show of their tricks. Lots of 'ohhh' and 'ahhh' went around and boy did that make our sunrise magical! That`s probably the most memorable sunrise I`ve ever had.
Sunsets
Sunsets are something different. It can be the end of a perfect day at the beach or a colorful show on your evening stroll when the sun turns the sky into shades of orange and red before slipping behind the horizon.
Here`s one of the most colorful sunsets I`ve seen at Huntington Beach in California.
Those moments with the sun, either being a sunrise or a sunset, make for memories that stay with you for a lifetime. Make sure to take time to enjoy them!
If you also like sunrises and sunsets make sure to join
#BeachChat on Twitter from 2.30 pm EDT